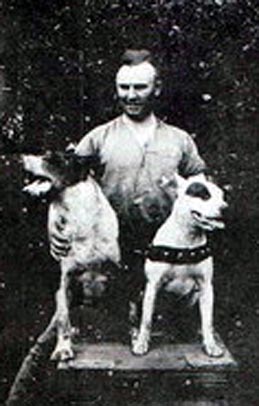 Earl Tudor with Black Jack and Cunningham's Nellie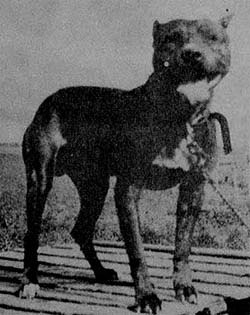 Tudor's Black Jack Jr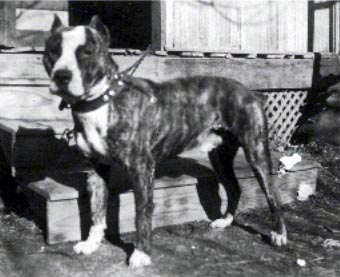 Tudor's Supreme (Peterson's)
One more part of the Henry bloodline Earl Tudor got from Cunningham's Nellie. Nellie was whelped on April 7, 1913. She was littersister to Henry's Brindle Pat, that was owned by W H Dunlay, TX. They were bred by Frank G Henry, sired by the best dog of Frank's - Henry's Black Brandy. Dam of Nellie was Henry's Red Nugget, that had a very rare pedigree from Frank Henry bloods collection. Very rare blood.. Henry's Old Susan was from the same breeding as Miller's Pocket, owned by H. R. P. Miller, Croton, Ohio. Anyway, lets look at very rare photo of Nellie's sire....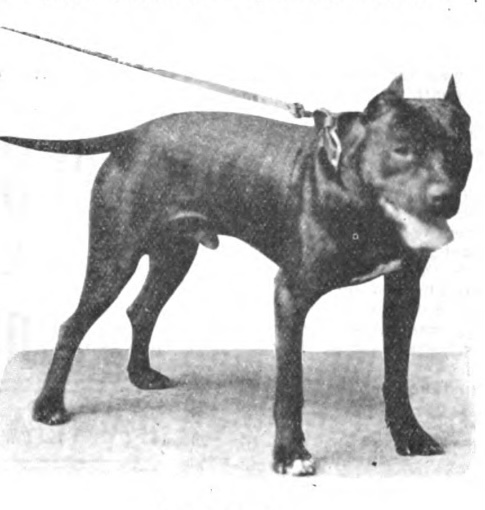 Henry's Black Brandy
Cunningham's Nellie was bred to Tudor's Black Jack. This combination gave such famous dogs as Supreme, Black Jack Jr, Wildfire. Black Jack Jr is a diamond there.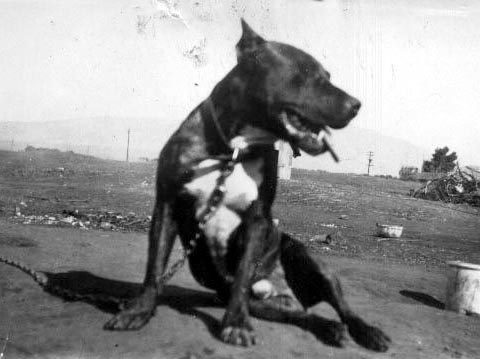 Tudor's Black Jack Jr (Peterson's)
Earl Tudor and many other dogmen told that Black Jack Jr is one of the very best in the breed history. Black Jack Jr was 65 lbs, official UKC Champion.
TUDOR'S BLACK JACK
BLACK TIGE
BLUE MIKE
WICHITA MIKE
MISS BLUE
LADY LEE
NEMO
JUDA
BLACKWELL'S MOLLIE W
SWINEFORD'S KING PADDY
DELIHANT'S PADDY
SWINEFORD'S DUCHESS
SWINEFORD'S BILLIE BURKE
SWINEFORD'S KING PADDY
SWINEFORD'S ANGRY AGG
CUNNINGHAM'S NELLIE
HENRY'S BLACK BRANDY
HENRY'S BLACK CAP
HENRY'S RED TODDY
HENRY'S WHITE THISTLE
HENRY'S BRINDLE DAISY
HENRY'S RED TODDY
HENRY'S ROSEMOND
HENRY'S RED NUGGET
HENRY'S LITTLE JIM
PIRATE
WHITE LILLY
HENRY'S OLD SUSAN
BOWERY BOY
DAISY DELL
In 1920's Earl Tudor had absolutely great collection of Henry bloods. Earl told that Henry dogs were the best he ever had, unique dogs. He linebred them many years and I think Earl knew how lucky he was to take "ripe fruits" from Frank yard.
To be continued...
<=Part 1 Part 3 =>