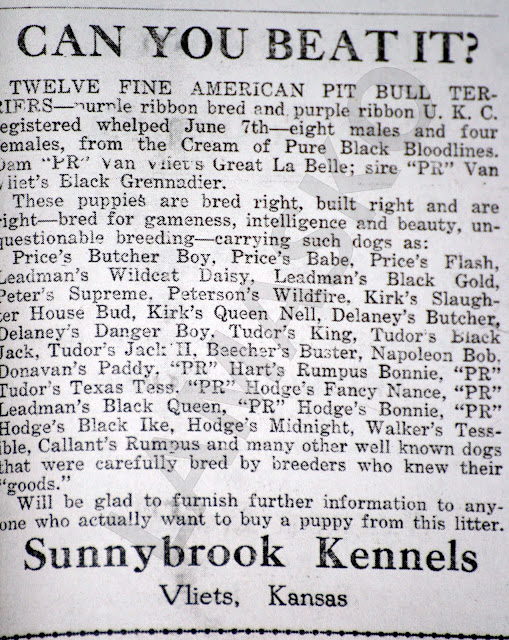 Sunnybrook kennels' ad of 1929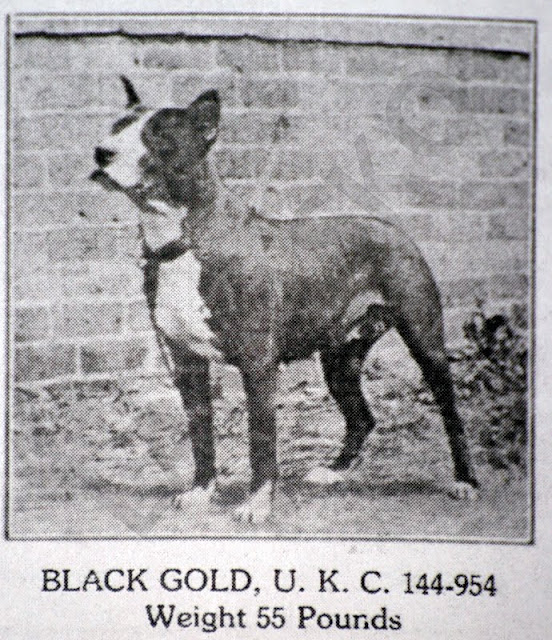 Leadman's Black Gold (daughter of Tudor's Jack II)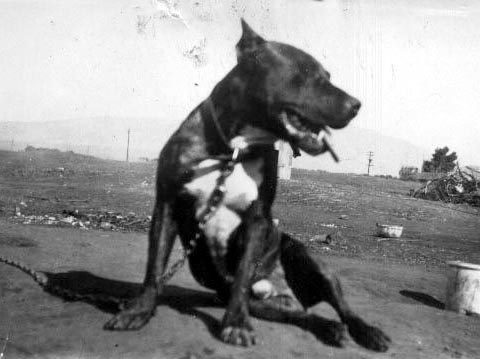 Tudor's Black Jack Jr (Tudor's Black Jack x Cunningham's Nellie)
Grandsire of X-Pert Torpedo - Callant Rumpus (Dugan's Pat x Collier's Little Bit)
June 7, 1929 in Vliets, Kansas....PR Van Vliet's Great Labelle whelped twelve puppies, 8 males & 4 females. Sire of them was PR Van Vliet Black Grenadier. That was breeding of Sunnybrook kennels, owned by Mrs Jas B Van Vliet. Puppies were linebred on Tudor's Black Jack. We know only one name of those 12 pups, X-Pert Torpedo. This one is a foundation dog of the X-Pert Bloodline, probably one of oldest lines in the breed. Unfortunately I have no photos of Torpedo parents, but I found an old advetisiment of Torpedo litter. Seems that Clifford Ormsby bought X-Pert Torpedo with this ad in old magazine.
Torpedo's sire - Van Vliet's Black Grenadier was by Price's Butcher Boy out of Leadman's Black Queen. Whelped on April 29, 1928, he was only male in the litter. Grenadier had solid black color. It was linebred Black Jack pedigree with 5 generations of breedings of Mr G R Leadman (Peoria, Ill.). G R Leadman began with Henry bitch named Leadman's Trilby. She was by famous Henry's Red Toddy out of Henry's Peggy. From what I see, studing his pedigrees, Leadman used mostly Corcoran's bloods, but later he became more interested in Henry blood from Tudor's Black Jack stock.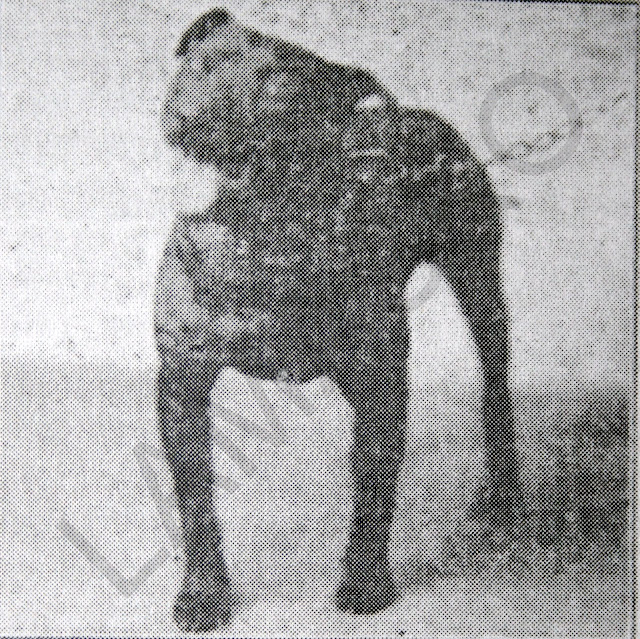 Price's Butcher Boy
Price's Butcher Boy was a well known dog in early 1900's. I have no info when he was whelped. I know that he was owned by G R Leadman, bred by Dock Price of Harrisburg, Ill. Leadman owned granddam of Butcher Boy and many others behind her in this pedigree. Here is what Leadman told about Butcher Boy : "He is solid black-brindle, 48 pounds of bone and muscle at 16 months of age. Butcher Boy is a low down, heavey bone, short coupled, big neck, big head fellow, a mean punisher, crusher and killer, absolutely game to the core." Butcher Boy was a great-grandson of Tudor's Supreme (littermate of the famous Black Jack Jr).
| | |
| --- | --- |
| Tudor's Supreme (Tudor's Black Jack x Cunningham's Nellie) | Earl Tudor with Black Jack & Nellie |
Granddam of Price's Butcher Boy was famous Leadman's Wild Cat Daisy. Leadman wrote about her: "Wild Cat Daisy is a show dog, she will ride a horse, jump through a hoop of fire, climb a 20-foot ladder and do the slide for life act by sliding down a 60-foot wire, holding to a padded ring fastened on the wire, and other tricks too numerous to mention; understands every word spoken to her, and when set dawn in the pit all friendship ceases. She is a poundage of fury, forceful, grafty, and with the spirit of staying until there can be but one victor." Daisy was granddaughter of Delaney's Danger Boy, that with his sire Danger were known as smartiest game dogs, as Leadman said :"with John Robinson's Circus were as smart as were ever born, performed numerous tricks during the summer months, were almost human in intelligence."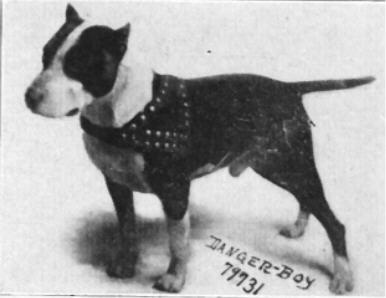 Delaney's Danger Boy (Delaney's Danger x Hulls' Flash) Whelped in 1915.
Leadman's Black Queen was out of Leadman's Black Gold. This Black Gold bitch had strong Black Jack pedigree. She was sired by Tudor's Jack II, as J M Corrington said "the king of heavy weight game dogs". And 2 generations back in Black Gold pedigree - Tudor's Wildfire, littersister of Black Jack Jr.
| | |
| --- | --- |
| Tudor's Jack II (Tudor's Black Jack x Walker's Tessible) | Tudor Black Jack 9 years old |
Dam of X-Pert Torpedo, Van Vliet's Great Labelle was linebred Tudor's bitch. She was sired by Tudor's King (Tudor's Jack II x Tudor's Texas Tess). Her dam Hart's Rumpus Bonnie was sired by Callant Rumpus, son famous Dugan's Pat. Callant Rumpus was bred to daughter of Tudor's Black Jack Queen - littersister of Tudor's Jack II.