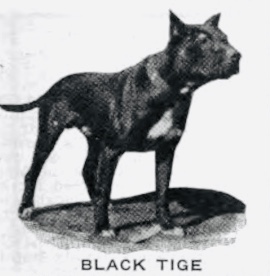 Black Tige (Blue Mike x Lady Lee)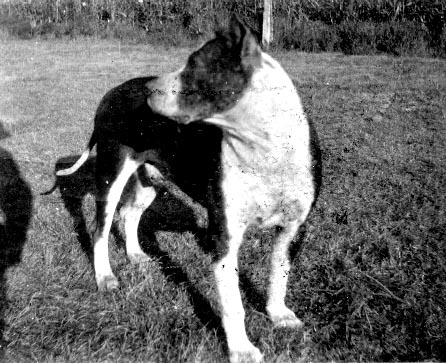 Tudor's Black Jack (Black Tige x Blackwell Mollie W)
There are many talks that sire of famous Tudor's Black Jack, Black Tige is from Henry bloodline. In early 1900's most of black colored dogs were from Henry's Black stock. One more mix up we can see with similar names, such as "Black Demon". There were 2 well known dogs named Black Demon.
One of them was from Frank Henry breeding, sired by Henry's Black Brandy, whelped on June 9 1910. Another one, is older than Henry's dog, originally from Texas, sired by Green's Black Paddy out of Lady Madge.
In fact , main help with this question came with original pedigree record of Blue Mike, sire of Black Tige. Blue Mike was owned G.C. Flint, Roland TX. Breeder is Ben Baer, San Angelo TX. Whelped February 13, 1908. Color: solid blue brindle. By Wichita Mike out of Miss Blue...Wichita Mike by Black Demon out of Blue Madge...Black Demon by Black Paddy out of Lady Madge.
We see that it's absolutely impossible for Henry's bred dog Black Demon, whelped in 1910, be found in Blue Mike pedigree, whelped in 1908! So, with all these records and corrections we have this pedigree of Black Tige.
BLUE MIKE
WICHITA MIKE
BLACK DEMON
GREEN'S BLACK PADDY
LADY MADGE
GREEN'S BLUE MADGE
TERRI BOY
IRISH LADY
MISS BLUE
GREEN'S BLACK ROGER
WARRIOR (OR SOLDIER)
NELL
GREEN'S BLUE MARY
SOLDIER BOY
BLACK NANCY
LADY LEE
NEMO
SITTING BULL
ROBINSON'S BOB
CORCORAN'S SIBIL
HINKY DINK
NO INFO
NO INFO
JUDA
COLBY'S PINCHER
WHITE'S TEDDY
COLBY'S PANSY
COLBY'S NEITZ
COLBY'S TIGE
COLBY'S RED NELL
Sire "tail" in this pedigree goes back to Warrior, sometimes named Soldier. Green's Black Paddy was sired by Green's Black Roger, also known as Imported Roger.
I hope this info will help to study Tudor's Henry dogs roots with more correct info and pedigrees.